The Definitive Guide to Boosting Your Website's Ranking on Google
How to rank your website on google? There are more than 130 million search users on Google every day, and the competition is fierce. That's why you need to adopt SEO techniques that will help you rise above your competitors and secure a top spot for your website on Google search results. If you're just getting started with SEO or want to learn more about it so that you can optimize your website better, this guide is for you. In this article, we'll be covering everything from the fundamentals of SEO to its future developments. You'll also learn how you can use these techniques to boost your ranking on Google and other search engines.
What Is SEO?
SEO stands for search engine optimization. It's the process of increasing the visibility of your website or a particular page on a website by raising that page's ranking in search engine results. When you optimize a website for search engines, it's important to remember that you are optimizing for people, not for search engines. The primary benefit of optimizing your site for search engines is that your page will appear higher in search engine results. This has two main benefits: more traffic from search engines, and higher conversion rates from that traffic since people will see your page and click on it more often when it appears at the top of search results.
How Can You Increase Your Website's SEO?
How to get your website to rank higher on google? There are three main areas you should focus on to optimize your website and increase your SEO: on-page SEO, backlink building, and content creation. You can also optimize your website's design and user experience to support your SEO efforts. Let's go over each of these in more detail. – On-page SEO – This is the process of optimizing all the elements of your website that a search engine would see, including your page's title, description, headings, and URL. – Backlink building – A backlink is simply a link from another website that leads to your website. When you build backlinks to your website, you are bringing more traffic to your site and giving your SEO a boost. – Content creation – Having high-quality, informative content on your website is essential to SEO, and it's also what people are looking for when they click on your page in search engine results. – Design and user experience – A website's design and user experience are just as important as its content, if not more. A poorly designed website page that is hard to read and navigate won't rank as highly as a well-designed page with an easy-to-read layout and functionality.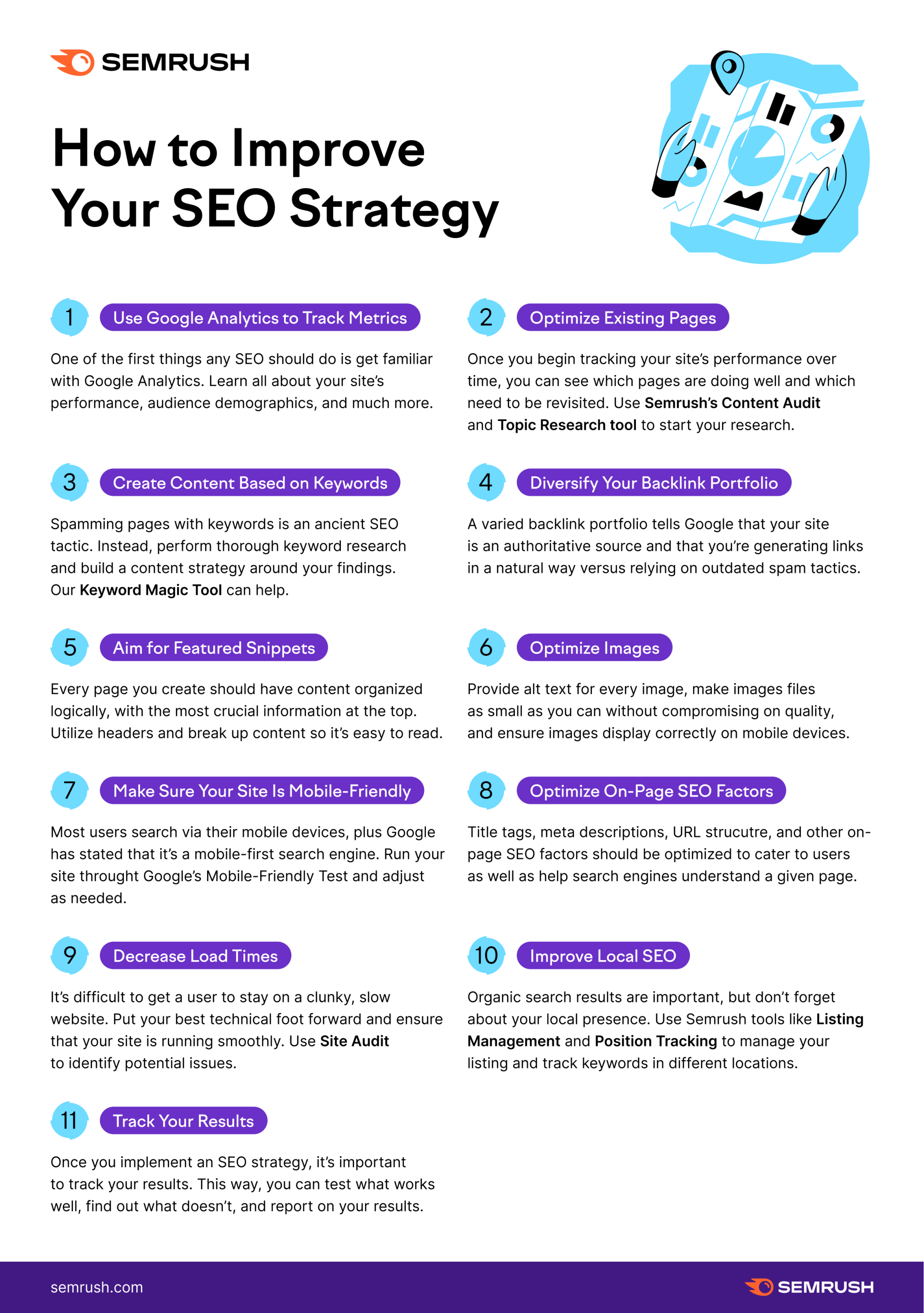 SEO Mistakes to Avoid
Having a high-ranking website isn't just about implementing the right SEO techniques — it's also about avoiding the common SEO mistakes that could lower your ranking or even get you kicked out of the search engines altogether. These are the most common SEO mistakes to avoid: – Keyword stuffing – This is the practice of stuffing your page with as many keywords as possible without any regard for the flow or readability of the content. Google's algorithms have gotten very advanced and are now able to detect this, which is why it's important to use the right keywords but not overdo it. – Over-optimization – You sometimes need to be a little aggressive in order to get your site where you want it to be, but you don't want to go overboard. If you are trying too hard to get your site to the top of the rankings, it will be obvious to Google's algorithms and they will penalize you. – Too many low-quality links Building links is an important part of SEO, but you need to make sure that those links are coming from trustworthy sources. If your links are coming from sites that are low-quality or have a high amount of commercialism, it may hurt your site's rankings.
Organic SEO Strategies
How to get your website to rank higher on google? Now that we've gone over the basics of SEO, let's go over some specific ways to boost your SEO. These SEO strategies will help improve your site's ranking in search engine results for both short- and long-term benefits. – Create great content – The foundation of SEO is having high-quality, keyword-rich content on your website. Without content, people have nothing to click on. So make sure that you're including original, keyword-rich content on your site so people will want to read it and share it. Google values fresh content and will reward you for it with a higher ranking. – Create a site map – A site map is a diagram showing the structure of your website. This is something Google requires all websites to have, and it's also something that users appreciate. – Use keywords in your URL – You can't change your website's URL, so don't be shy about using keywords in it. Ideally, the most important keyword for your page should appear in your page's URL.
Paid Advertising Strategies for SEO
You may have heard that you have to spend money to make money, and that's definitely true when it comes to SEO. How to get your website to rank higher on google? There are many paid advertising strategies you can use to boost your SEO, including link building, influencer marketing, and paid guest posts. Link building – This is a paid advertising method that can dramatically boost your SEO. However, it's important to note that there are two types of link building: natural and manual. Natural link building involves getting other websites to link back to you naturally — for example, if they like your content, they'll link back to it. Manual link building is when you pay other websites to link back to your website. – Influencer marketing – You can pay social media influencers to post on their accounts and include a link back to your website. This is an easy and cost-effective way to get a lot of traffic to your website. – Paid guest posts – If you want to get your website into the top ranks but you don't have time to write a ton of new content, you can pay other bloggers to write articles for you. These blogs will link back to your site and drive traffic there, giving you a nice boost in SEO.
Final Words
SEO is a critical part of your marketing strategy, and it's something that you will have to do regularly to stay competitive. Fortunately, it's a process that can be automated and integrated into your daily workflow — you just have to make sure to prioritize it. When it comes to SEO, there's no one-size-fits-all strategy. Depending on your industry and your website, you'll have to experiment with different techniques and strategies to find what works best for you. Keep reading up on the latest SEO developments, and follow these tips to improve your website's ranking on Google.